Hineinu – Connecting our Community
Welcome to Hineinu!
Hineinu: We are here, together!
Through Hineinu, Congregation Beth Israel seeks to strengthen our community and recognize the kedusha (sanctity) of one another. Working together, both inside and outside the dome, we can create opportunities for our congregants to find connection and support from our community. We are saying, "We are here, together!"
Hineinu is a commitment to making a difference, to being part of a community that not only nurtures the individual soul, but also awakens in us a sense of connectedness to and responsibility for one another. CBI is our home and our community. But it is only a community if WE are willing to say, "Hineinu, we are here!" and act to make it so.
Hineinu is how we will come together to foster and nourish our community, by expanding our efforts to engage in acts of bikkur cholim, taking care of the sick, cooking meals for one another in times of need, becoming ambassadors of the congregation, welcoming the stranger. By creating opportunities to connect with one another for support, we will build relationships and strengthen our Jewish identity.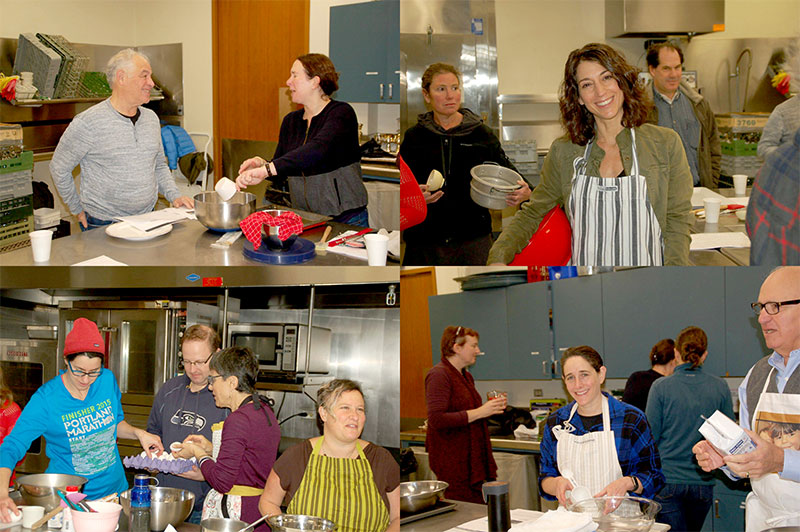 Get Involved!
Greeters
Greeters offer a warm welcome to services and events and make everyone – newcomers and longtime members – feel at home at CBI. To become a Greeter, sign up online at  or contact Greeters@bethisrael-pdx.org
Ambassadors
Our ambassadors will engage new members from the very beginning and work to create meaningful relationships with current members. To learn more about the program, please contact Ambassadors@bethisrael-pdx.org
Celebrations
Have a special occasion coming up? Now you can celebrate that birthday, adoption, engagement, anniversary – any simcha your can think of – at CBI. Let our Celebrations Corps make it happen! To join the Celebrations Corps, or for more information, please contact Celebrations@bethisrael-pdx.org
Families
Our mission is to help families connect through grade-level celebrations, community events, parent groups and holiday happenings. Put your great ideas to good use and join us! For more information, please contact Families@bethisrael-pdx.org
Adults
We have two adult cohorts – a 50+ group and a 30's to 50 group – providing fun, creative, and meaningful opportunities to come together for outings and cultural events at CBI and in the community. Plan and play with us! For more information, please contact Adults@bethisrael-pdx.org
Caring Community
The Caring Community is dedicated to Bikkur Cholim, repairing the world, by providing support, comfort and connection to those in need while building community within CBI. Here's how:
Neighborhood Circles – Neighborhood Circles organize community events – potlucks, hikes, ice-cream socials, Havdalahs – so you can connect with CBI members who live near you. And if a need arises for a CBI member in your neighborhood, an email is sent from the CBI office with a request for help. Help if you can, but if you can't, perhaps someone else can… and there's always a next time.
 Shiva and Bereavement Committee – This group is forming to help congregants who've suffered a loss by making shiva arrangements, and providing meals and support.
For more information, please contact CaringCommunity@bethisrael-pdx.org.