Meeting Schedule and Events
Upcoming Events
Forum: Residential Infill & The Impacts of Zoning
Wednesday, Nov. 20, 5:30 PM check-in; program begins at 6:00 PM
Goodman Hall
This event is sponsored by Neighbors West-Northwest and the Interfaith Alliance On Poverty.  This is a critical issue that has major implications for the future of the Portland housing supply.  Staff from the City of Portland Bureau of Planning and Sustainability will be there to provide the facts of the current proposal and the historical context. Register now! 
Inequality and its Implications for our Democracy
Saturday, November 23, 6:00 PM
First Unitarian Church (1011 SW 12th Avenue)
Join author author Les Leopold and the Oregon Center for Public Policy in an evening to explore Inequality and its implications for our democracy. Doors open at 5:30 PM; a $5 -20 donation is requested. No one turned away for lack of funds. A copy of Runaway Inequality is included with your donation for the first one hundred attendees. "The arc of capitalism does not bend towards justice. We must bend it." Sponsored by Economic Justice Action Group of the First Unitarian Church and Oregon Center for Public Policy and Co-sponsored by several other groups including the Interfaith Alliance on Poverty.
Northwest Towers Thanksgiving Dinner
Sunday, November 24
Northwest Towers
Please join the Social Action Committee and other CBI volunteers in preparing and serving a traditional Thanksgiving Dinner for our neighbors at NW Towers.  There will be opportunities for donating food, cooking, dining room setup and decorating, serving and more. Cooking starts at 10:30 AM at CBI, dinner will be served at 2:30 PM.  Sign up today!
Climate Change: Is it Really a Jewish Issue?
Wednesday, December 11, 7:00 PM
Mittleman Jewish Community Center (6651 SW Capitol Hwy)
Join us for a panel discussion on the Climate Change issue from a Jewish perspective.
RSVP now!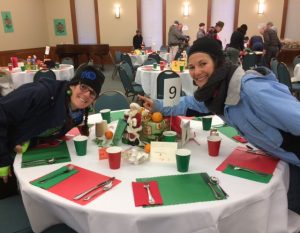 Lift Urban Portland Community Christmas Dinner 2019
Wednesday, December 25
Goodman Hall
For many years CBI has hosted the Lift Urban Portland Community Christmas Dinner. This is a beloved festive neighborhood event that is attended by several hundred guests. It's also a popular and much-anticipated to volunteer opportunity for CBI congregants. Last year close over 200 volunteers helped to make the
celebration a success.
This year's event will take place on Christmas Day, Wed Dec 25, 2019. The dinner will be served from 12:00-2:00 PM. Guests are given lovingly hand knitted scarves and hats, and gift bags. In addition to the holiday meal served in Goodman Hall, meals are delivered to homebound individuals. Drivers are needed for this task. Delivering meals can be a family activity.
We need a large cadre of volunteers before, during and after the dinner to make this event happen. Details about specific responsibilities will be available prior to the event. Sign up to volunteer now!
Ongoing Meetings
SAC Committee Meetings
1st Wednesdays 5:30-7:00 pm
Semler Board Room
November 6, December 4
Immigration/Refugee Subcommittee
First Wednesdays of each month, 4:30-5:30 PM
Semler Board Room
December 4
Interfaith Alliance on Poverty: Monthly First Thursday Meetings 
Thursday, October 3, 12:00 PM
First Unitarian Church (1211 SW Main St)
Thursday, November 7, 12:00 PM
Rose City Presbyterian Church (1907 NE 45th Ave)
Thursday, December 5, 12:00 PM
Westminster Presbyterian Church (1524 NE Hancock St)
Ongoing Volunteer Opportunity! Be a Great Neighbor!
Sundays, 9:00-9:30 am, Trader Joe's (2122 NW Glisan)
Every Sunday morning, a CBI team helps to load, transport, and unload a truckload of food donated from Trader Joe's on NW Glisan to our neighbors at NW Towers and Annex. This food donation helps an average of 40 households each week, many of whom rely on it as their main food source. New volunteers, especially those with trucks or SUVs, are welcome to participate. Please contact Sally Rosenfeld.
Mitzvah Day
An annual highlight of the CBI calendar, our community truly comes together each Spring for Mitzvah Day. Congregants of all ages participate in a variety of activities to support good works throughout the Portland area. Past years' projects have included meal preparation for shelters, sorting clothing for seasonal workers,  cleaning and organization the Lift Urban Portland  and Sunshine Pantry food warehouses,  work at the Children's Book Bank and maintenance of our own Beth Israel Cemetery.  A special Family Mitzvah Center allows our littlest mensches to make a difference with special projects tailored to their skills.
Mitzvah Day is run entirely by CBI volunteers, so if you have a great idea for a project or want to get involved in planning, please let us know!