Meet Linda

Linda Bridges
Accounts Payable Specialist
She/ Her/ Hers
(503) 222-1069 Ext 103
Email
Three Fast Facts
1. I love spending time with my grandchildren, Liam and Mia.
2. I enjoy gardening in my free time. (See attached picture.)
3. My husband Dennis and I like to travel to new places.
More about Linda
Linda (Scott) Bridges was born and raised in Michigan. She graduated from Earlham College with a B.A. in Chemistry, the University of Illinois with B.S. in Nuclear Engineering, and the University of Chicago with an M.B.A. She worked for Commonwealth Edison in Chicago for 13 years in a variety of positions. In 1984 Linda married Dennis Bridges and they had two daughters, Allisyn and Laura. After Laura was born, Linda chose to become a full-time mother. In 1993, Dennis was transferred to Portland. The drive from Chicago was interesting with a 3 year old, a 6 year old, a Labrador retriever, and 2 cats in the car. For the next few years, she volunteered a lot in her daughters' school, most helping teachers with science experiments and in the computer lab. In 1999 Linda purchased the computer sales and service store Pacific Solutions and ran it for 17 years. Due to changing market conditions, she closed the store in 2016. She has worked part-time for Congregation Beth Israel since 2018 and loves working for a socially responsible organization. Her outside interests are spending time with her two grandchildren, gardening, reading, and volunteering in her church.
What I do at CBI
I pay the bills.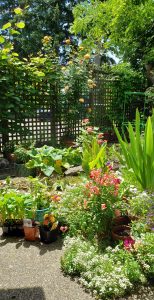 Michael Z. Cahana


Senior Rabbi
Contact through Beeta Neshati
He/ Him/ His
(503) 222-1069
Email About Me


Ida Rae Cahana

Senior Cantor
Contact through Beeta Neshati
She/ Her/ Hers
(503) 222-1069
Email About Me

Rachel L. Joseph

Associate Rabbi
Contact through Beeta Neshati
She/ Her/ Hers
(503) 222-1069
Email About Me


Rayna Green

Cantor
Contact through Beeta Neshati
(503) 222-1069
Email About Me

Emanuel Rose (z"l), D.H.L., D.D.

Rabbi Emeritus
He/ Him/ His


Judith Blanc Schiff

Cantor Emerita
She/ Her/ Hers


Josh Kashinsky

Executive Director
He/ Him/ His
(503) 222-1069
Email About Me

Tracy Manaster Alifanz

Communications and Program Coordinator
She/ Her/ Hers
(503) 222-1069
Email About Me

Bitsie Appleton

Office and Cemetery Coordinator
She/ Her/ Hers
(503) 222-1069
Email About Me

Beeta Neshati

B'nei Mitzvah Coordinator and Clergy Support
She/ Her/ Hers
(503) 222-1069
Email About Me

Ben Sandler, M.Ed.

Education Director
He/ Him/ His
(971) 339-2076
Email About Me

Chelsea Ferguson

Sr. Program Manager, Youth and Family
She/ Her/ Hers
(971) 339-2083
Email About Me

McKenna Means

Dallas Van Winkle

Facilities Manager
(503) 222-1069
Email

Susie Young

Facilities Manager
(503) 222-1069
Email