Meet Shoshanna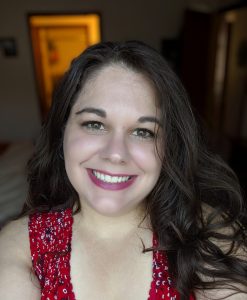 Shoshanna Pro-Richards, MPH
Sr. Program Manager, Membership
She/ Her/ Hers
(971) 339-2075 Ext 104
Email
Three Fast Facts
1. I was born and raised in a national forest in the San Bernardino Mountains.
2. After years of musical and dance training, I still have no sense of rhythm and struggle clap on beat. I have studied clarinet, piano, guitar, ballet, hip hop dance, ballroom dance, and even taught Israeli dance.
3. I met my husband at CBI where we taught preschool together for 3 years.
More about Shoshanna
Shoshanna grew up in a small named Lake Arrowhead, CA where she had beautiful summers and snowy winters (yes it happens in CA!). Despite her synagogue being a 45 minute drive, Shoshanna was an active participant in youth group and synagogue life. As she grew up she attended and worked at URJ Camp Newman for many years. When Shoshanna was 17 she attended California State University, Northridge and vowed to take a step back from "Jewish leadership." 4 months later she was on the campus Hillel Board. Shoshanna has a BA in Anthropology with a Jewish Studies minor and a Masters in Public Health with an emphasis in global health from Oregon State University. She hopes to one day work in public health supporting women's health. Shoshanna has been working with CBI for 4+ years; 3+ years being in the preschool and youth programming and 1.5 years in her current position.
What I do at CBI
I help build our community by helping new members get involved and I play with excel, a lot.
Josh Kashinsky

Executive Director
He/ Him/ His
(503) 222-1069
Email About Me

Tracy Manaster Alifanz

Communications and Program Coordinator
She/ Her/ Hers
(503) 222-1069
Email About Me

Bitsie Appleton

Office and Cemetery Coordinator
She/ Her/ Hers
(503) 222-1069
Email About Me

Beeta Neshati

B'nei Mitzvah Coordinator and Clergy Support
She/ Her/ Hers
(503) 222-1069
Email About Me
Michael Z. Cahana


Senior Rabbi
Contact through Beeta Neshati
He/ Him/ His
(503) 222-1069
Email About Me


Ida Rae Cahana

Senior Cantor
Contact through Beeta Neshati
She/ Her/ Hers
(503) 222-1069
Email About Me

Rachel L. Joseph

Associate Rabbi
Contact through Beeta Neshati
She/ Her/ Hers
(503) 222-1069
Email About Me


Rayna Green

Cantor
Contact through Beeta Neshati
(503) 222-1069
Email About Me

Emanuel Rose (z"l), D.H.L., D.D.

Rabbi Emeritus
He/ Him/ His

Judith Blanc Schiff

Cantor Emerita
She/ Her/ Hers

Melissa Bordine

Finance Director
She/ Her/ Hers
(971) 339-2080
Email About Me

Linda Bridges

Accounts Payable Specialist
She/ Her/ Hers
(503) 222-1069
Email About Me

Talya Hernandez-Ritter

Accounting Coordinator
She/ Her/ Hers
(503) 222-1069
Email About Me

Ben Sandler, M.Ed.

Education Director
He/ Him/ His
(971) 339-2076
Email About Me

Chelsea Ferguson

Sr. Program Manager, Youth and Family
She/ Her/ Hers
(971) 339-2083
Email About Me

McKenna Means

Dallas Van Winkle

Facilities Manager
(503) 222-1069
Email

Susie Young

Facilities Manager
(503) 222-1069
Email