CBI Members | High Holidays 5779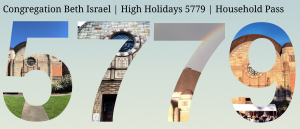 We are eager to come together to celebrate the High Holidays 5779 with you. Instead of Admission Cards, this year we are sending our members a Household Pass, a single document that will admit your entire household to the services of its members' choosing, a change that both reduces waste and should streamline your family's entry into services this year.
Are you hoping to share the High Holidays at CBI with nonmember family and friends? Please invite them to join us at CBI by calling the Main Office at (503) 222-1069 or by reserving a Guest Pass online.  For the High Holidays, it is customary for guests to make a donation in appreciation of their host congregation. A $180 contribution is suggested, but we welcome whatever is appropriate to your circumstances.
If you will away from Portland during the High Holidays and would like to attend services at a URJ congregation elsewhere, please call or email Sara Hernandez, our Receptionist and Tributes Coordinator, at (503) 222-1069, who can assist you in arranging reciprocal tickets.
There are many ways for you to connect and celebrate with us during these high points of the Jewish calendar, including:
Please consider joining our cadre of volunteers who greet CBI members, guests, and newcomers throughout the High Holidays. Help be a part of what makes our community warm and welcoming. For details, questions, or to sign up, contact our Program Coordinator, Tracy Manaster Alifanz, at (503) 222-1069. You'll get to start the nwq year with a Mitzvah, wear a fancy name tag, and perhaps even answer some of life's most essential questions – such as, where is the bathroom?
CBI is going to BB Camp onFriday, September 14 through Sunday, September 16! Our clergy and your fellow congregants are looking forward to welcoming 5779 with your family at our second annual High Holidays Family Camp. Sign up now!
Every year, our WRJ/Beth Israel Sisterhood contributes a delicious array of homemade treats for our Rosh Hashanah reception. Your delicious masterpiece could be among them! Please contact Program Coordinator Tracy Manaster Alifanz for details.

When you arrive at services, you will need to show your Household Pass to our ushers, so please remember to bring it.  With nearly 860 families, we need to make sure that all of our congregants are guaranteed timely seating for all services.  You may access the Main Sanctuary through the front and carriage entrances only
Please also note:
Doors will open one-half hour before the Family Evening Service and fifteen minutes before the Traditional Evening Service.  Doors will open one-half hour before all morning services.
Large backpacks, bags, purses and/or packages are not allowed in the Temple.
Parking near CBI is ALWAYS difficult. Please consider carpooling, taking public transportation, or using a rideshare service. Parking details are available here.