Guests | High Holidays 5780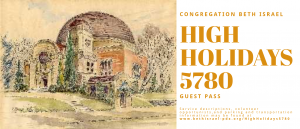 New in Portland? Visiting from out of town? Looking to connect with a warm, welcoming Jewish community for the upcoming High Holidays? We are looking forward to welcoming you! Please call the CBI Main Office at (503) 222-1069, email Sara Hernandez, our Receptionist and Tributes Coordinator, or request your Guest Pass using our online form. This Guest Pass will admit your party to any of our High Holiday Services. For the High Holidays, it is customary for guests to make a donation in appreciation of their host congregation. A $180 contribution is suggested, but we welcome whatever is appropriate to your circumstances.
We hope you find our High Holiday services inspiring and meaningful.  If you aren't from the area, we welcome you to our community and hope you enjoy your visit while in Portland.  If you live in Portland, we encourage you to join us for regular Shabbat Services and, hopefully, join our congregation and community.
Our CBI community looks forward to sharing these days with you.
Please note:
Guest Passes will be available only at will-call, and may be picked up in the CBI Main Office in the Schnitzer Family Center starting September 15, 2019 or before services themselves in the entry to the Main Sanctuary.
Doors will open one-half hour before the Family Evening Service and fifteen minutes before the Traditional Evening Service.  Doors will open one-half hour before the morning services.
Large backpacks, bags, purses and/or packages are not allowed in the Temple.
Parking near CBI is ALWAYS difficult. Please consider carpooling, taking public transportation, or using a rideshare service.