CBI Members | High Holidays 5780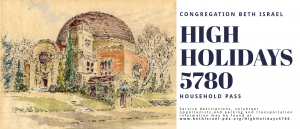 We are eager to come together to celebrate the High Holidays 5780 with you. You should have received a Household Pass, a single document that will admit your entire household to the services of its members' choosing, and information about upcoming events this fall.
Are you hoping to share the High Holidays at CBI with nonmember family and friends? Please invite them to join us at CBI by calling the Main Office at (503) 222-1069 or by reserving a Guest Pass online.  For the High Holidays, it is customary for guests to make a donation in appreciation of their host congregation. A $180 contribution is suggested, but we welcome whatever is appropriate to your circumstances.
If you be will away from Portland during the High Holidays and would like to attend services at a URJ congregation elsewhere, please call or email Sara Hernandez, our Receptionist and Tributes Coordinator, at (503) 222-1069, who can assist you in arranging reciprocal tickets.
Information about High Holidays parking is now available. As parking near CBI is always difficult, we encourage you to consider carpooling, taking public transportation, or using a rideshare service. The Kings Hill/NW Salmon MAX Station is a 1/2 mile walk from CBI, and there are bus stations at NW Glisan and 19th Avenue (77 bus line) and West Burnside and NW 20th Avenue (bus lines 15, 18, and 20).
There are many ways for you to connect and celebrate with us during these high points of the Jewish calendar, including:
Please consider joining our cadre of volunteers who greet CBI members, guests, and newcomers throughout the High Holidays. Help be a part of what makes our community warm and welcoming. For details, questions, or to sign up, contact our Communications and Program Coordinator, Tracy Manaster Alifanz, at (503) 222-1069. You'll get to start the new year with a mitzvah, wear a fancy name tag, and perhaps even answer some of life's most essential questions – such as, where is the bathroom?
CBI is going to BB Camp on Friday, October 4 through Sunday, October 6! Our clergy and your fellow congregants are looking forward to welcoming 5780 with your family at our second annual High Holidays Family Camp. Sign up now!
Every year, our WRJ/Beth Israel Sisterhood contributes a delicious array of homemade treats for our Rosh Hashanah reception. Your delicious masterpiece could be among them! Please contact Communications and Program Coordinator Tracy Manaster Alifanz for details.