Purim
We are so excited to bring you a truly magical Purim Schpiel this year!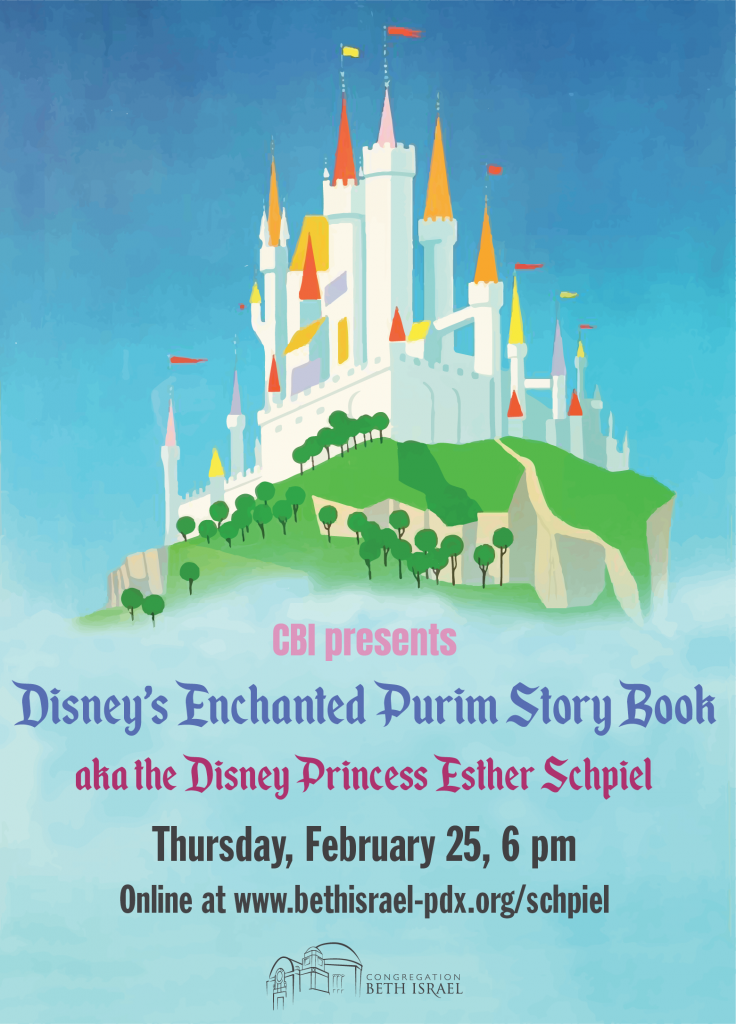 Join us via Zoom at 6:00 PM on Thursday, February 25. The evening will include a megillah reading prior to the Schpiel performance. For the link to connect, please visit https://www.bethisrael-pdx.org/joinus/.
To read (and sing!) along with the cast, as well as to enjoy a few commemorative posters, please download this guide.
Download this Zoom Castle Background (image is shown below) to share in the fun of the Purim Schpiel!
---
Purim Programming
Join us during the week of February 21 – February 28! We'll be celebrating Purim all week long! All program links can be found on our join us page.
Purim Period Product Drive
This Purim, the Social Action Committee is holding a period products drive. You are welcome to drop them by the Schnitzer Family Center on the CBI campus. Simply come by the entryway to be buzzed in.
Purim Schpiel – Thursday, Feb 25 at 6:00 PM
Put on a costume (the showplace via Zoom, so you can share yours via spotlight) and get ready to sing along (the wildly witty lyrics can be downloaded here).
Purim Kabbalat Shabbat Service – Friday, Feb 26 at 6:00 PM
Join us for this special Shabbat service as the holiday celebration continues.
Join via Zoom | Meeting ID 872 6717 5564
Watch via Livestream
Purim Torah Study – Saturday, Feb 27 at 9:00 AM
Our weekly Torah study will focus on Purim this Saturday.
Join via Zoom | Meeting ID 872 6796 8642
Purim Shabbat Morning Service – Saturday, Feb 27 at 10:30 AM
Join us on Saturday morning for a Purim-themed Shabbat Morning service.
---
Send Mishloach Manot (Purim Gift Bags)
While we can't be together in-person during Purim, we encourage families to connect with one another by sending cards or mishloach manot (gift baskets)! Click here to download a special CBI Purim coloring page. Color it, write well-wishes, and send it to another family! Lookup a friend's address with our member directory. For additional information on how to connect through our directory, please visit here. Below you will find more creative ideas for mishloach manot.
---
Resources for Purim
---
Hamantaschen Recipies