Our Clergy
Senior Rabbi, Michael Z. Cahana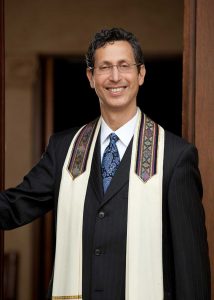 Rabbi Michael Z. Cahana joined our community in July 2006, becoming the 18th Senior Rabbi to serve Congregation Beth Israel in Portland, Oregon. Leading synagogues in the Midwest and the East Coast, Rabbi Cahana has strived to create vibrant and inclusive Jewish communities. Through his leadership and programming, Rabbi Cahana has reached out to unaffiliated Jews, interfaith families, and others who have struggled to find a home in the Jewish community. Rabbi Cahana brings to Congregation Beth Israel his passion for creating a warm, supportive community in which Jewish learning and worship are exciting and engaging.
Rabbi Cahana's academic interests are the interface of religion and science with a particular emphasis on medical ethics. He has served on the Central Conference of American Rabbi's Committee on Human Sexuality and chaired its ad hoc committee on Physician-Assisted Suicide and its the Resolutions Committee. Rabbi Cahana continues to serve on community boards and inter-religious councils; and is a past President of the Oregon Board of Rabbis. Rabbi Cahana has published on such diverse topics as physician-assisted suicide in Jewish law, the Unvoiced Tetragrammaton, and the role of religion in the T.V. series "Battlestar Galactica".
In 1999, Rabbi Cahana was featured, along with his family, in the critically acclaimed documentary "The Last Days." The film tells the true stories of five Hungarian survivors of the Holocaust, including Rabbi Cahana's mother – the renowned Holocaust artist Alice Lok Cahana (z"l). "The Last Days," which was produced by Steven Speilberg's Survivors of the Shoah Visual History Foundation, won the 1999 Academy Award for "Best Documentary." In 2009, he accompanied his mother to Rome where one of her large-scale paintings became the first piece of Holocaust art on permanent display in the Vatican museum.
Born in Houston, Texas, Rabbi Cahana comes from multiple generations of rabbis including his late father, Rabbi Moshe Cahana, and his older brother, Rabbi Ronnie Cahana. Rabbi Cahana began with a career in theater, including acting, directing, and theatrical design. He later earned an MFA in Architectural Lighting from Parson's School of Design. Soon, however, family tradition of the rabbinic life called him, leading to his ordination in 1994, becoming the first Reform rabbi in his family's long rabbinic history. Rabbi Cahana integrates his rabbinical training with his theater background to create an environment in which prayer becomes an art form. During worship, there is an aesthetic of thought, when individual moments can inspire movement and change.
Rabbi Cahana is also highly engaged in social action, embracing the concept of Tikkun Olam (repairing the world) to make our community and nation better. He serves on the leadership team of Lift Every Voice Oregon, and interfaith movement to pass gun safety legislation in Oregon. He also is on the Board of Cedar Sinai Park and an at-large member of the Jewish Community Relations Council of the Jewish Federation of Greater Portland.
While studying in Jerusalem, he met his wife, Cantor Ida Rae Cahana who is formerly the Senior Cantor of Manhattan's Central Synagogue and now serves as Senior Cantor at CBI. They live in Portland with their son, David, and triplets Sarit, Liora, and Idit.
Rabbi Cahana can be reached via e-mail.
Senior Cantor, Ida Rae Cahana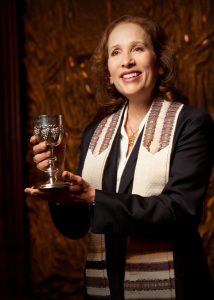 Cantor Ida Rae Cahana was raised in Pittsburgh, PA, where she made history and the local news at the age of seventeen, when she became the first woman in the area to sing in a synagogue as the cantorial soloist. She completed undergraduate and masters' degrees in voice from Carnegie-Mellon University and The New England Conservatory of Music in Boston and later returned to her cantorial roots, becoming ordained as Cantor by the Hebrew Union College-Jewish Institute of Religion. She is featured soprano soloist on Transcontinental Music's 5 CD set of High Holiday music, Yamim Noraim, and on the acclaimed Milken Foundation Archive of American Jewish Music, Naxos label. She has coached and mentored cantorial students as a faculty member at both the Jewish Theological Seminary and Hebrew Union College-Jewish Institute of Religion in New York City. Cantor Cahana has appeared on Broadway with Phyllis Newman, as a featured soloist at Alice Tully Hall with Leonard Nimoy, at Merkin Concert Hall with Zalmen Mlotek and the 92nd Street Y with Theodore Bikel. She has also sung at the Barbican Theatre in London in "Vanished Voices" and in a Yiddish art song recital this past December at YIVO, NYC.
In July of 2012, Ida Rae Cahana was installed as Senior Cantor for Congregation Beth Israel in Portland, Oregon where her husband, Rabbi Michael Cahana has served as Senior Rabbi since moving to Portland in 2006. Prior to her installation as Senior Cantor, she served as Adjunct Clergy for four years at Congregation Beth Israel. She has also been scholar-in-residence in Dallas, TX and Bend, OR, and was sole clergy for High Holiday services in Sun Valley, Idaho from 2008-2011. For the 2009 community Holocaust commemoration held at Portland Center Stage, she and her husband presented "Through My Mother's Eyes," an original work they developed together based on the writings and art of Alice Lok Cahana. Cantor Cahana created the role of "Paulinka Bim Bam" for the Jewish Theater Collaborative in the 2008 premiere of "Charlotte Salomon: Life? Or Theatre?" and recreated the role in 2011. She has also been a featured vocalist with the Portland chamber music ensemble, "45th Parallel." In 2008, Cantor Cahana met the amazing Thomas Lauderdale, who invited her to join China Forbes, Ari Shapiro, and Pink Martini band members in recording two Jewish songs for their holiday album, "Joy to the World." In December 2012, she marked her Carnegie Hall debut, singing with Pink Martini. She continues to perform with them for New Years' Eve concerts at the Arlene Schnitzer Concert hall in Portland and the Walt Disney Concert Hall in L.A. One of the things Cantor Cahana loves most about her adopted city of Portland is the spirit of collaboration and appreciation of the arts which makes such things possible as her band tour on the East Coast with Pink Martini and Storm Large in December 2011. She has also performed with Michael Allen Harrison and friends in "Crossing Over," an original retelling of the Exodus story; she is an integral part of the original cast recording.
Cantor Cahana is blessed to be surrounded by loving friends and family and this remarkable synagogue community.
Cantor Cahana can be reached via e-mail.
Associate Rabbi, Rachel L. Joseph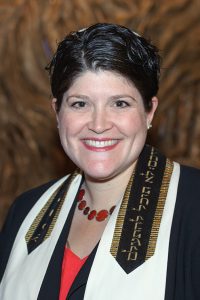 Rabbi Rachel Joseph joined Congregation Beth Israel in July of 2012, sharing her passion for, commitment to, and leadership in community building. She is a leader in social and racial justice activism, and in equity and inclusion efforts with the CBI and greater Portland communities. She serves on the boards of Planned Parenthood Columbia Willamette and Planned Parenthood Advocates of Oregon, is a member of the National Clergy Advisory Board for Americans United for Separation of Church and State, and has previously been on the board of TIVNU, the Jewish Gap Year Program and chair of the Oregon and SW Washington Board of Rabbis.
Rabbi Joseph was raised in Cincinnati, OH, an active member of Isaac Meyer Wise Temple, and spent every summer at Goldman Union Camp Institute, the URJ camp in Zionsville, Indiana. She also lived internationally on and off during her childhood, while her father, Rabbi Sam Joseph, consulted in progressive Jewish communities from Australia and Brazil to Hong Kong. She attended Ohio University – Athens, graduating with a degree in Communications, Political Studies, and Women's Studies. After graduation, Rabbi Joseph worked as a Legislative Assistant at the Religious Action Center of Reform Judaism in Washington, D.C. and then spent seven years working for Americans United for Separation of Church and State as a lobbyist and Associate Director of Legislative Affairs.
During Rabbinical School at Hebrew Union College, Rabbi Joseph was both a Wexner and Tisch Rabbinical Fellow. Rabbi Joseph completed her second and third years of studies at the Los Angeles campus of HUC-JIR, where she received her Master of Arts in Hebrew Letters. While in California, Rabbi Joseph served congregations in Victorville and Merced as well as at Temple Isaiah of Los Angeles. She then moved back to Cincinnati for her fourth and fifth years of rabbinical school and Ordination where she served as a chaplain at Cedar Village and as a student rabbi in Kokomo, Indiana. She was also a rabbinic intern for community organizing for the Union of Reform Judaism, Just Congregations.
Since becoming an Oregonian, Rabbi Joseph has steadily increased her collection of gear and love of outdoor adventures, but draws the line at sleeping on the ground. She enjoys Portland's food scene, with it's fun take on international cuisine but never developed a taste for salmon.
On her time away from the pulpit, Rabbi Joseph enjoys adventures with her wife Sara, and their blended family of children, Zia, Bennet, and Max; dog, Keshet, and two cats, Olga and Misha.
Rabbi Joseph can be reached via e-mail
B'nei Mitzvah and Family Educator, Rayna Green
After 10 years, Cantor Rayna Green is thrilled to be coming home to Portland, Oregon, and rejoining the Congregation Beth Israel family where she was mentored by Cantor Judy Schiff and Cantor Ida Rae Cahana. Cantor Green will be joining the clergy team as part-time cantor.
Most recently, Cantor Green served for five years as cantor at Congregation B'nai Jehoshua Beth Elohim (BJBE) in Deerfield, Illinois. During this time, she also served as president of the Reform Cantors of Chicago for two years.
Cantor Green's passions include empowering youth through music, creating meaningful prayer experiences, and building inclusive communities. While at BJBE, she expanded the youth choir program and created a teen band, while also focusing on other opportunities for young people to engage in Jewish prayer life. She also led inclusion efforts at the synagogue, helping BJBE to become a certified exemplar synagogue for inclusion through the Union for Reform Judaism. Part of her efforts included creating an accessibility center that provided resources for people of all abilities to fully engage in worship.
Cantor Green was ordained in 2015 at Hebrew Union College – Jewish Institute of Religion. As a student cantor, she gained experiences in a variety of settings, such as Tzur Hadassah in Israel, Central Synagogue in Manhattan, Brooklyn Heights Synagogue, and Port Jewish Center in Port Washington, New York. She also served as a chaplain intern at The New Jewish Home of Manhattan.
Cantor Green was the cantorial recipient of the Tisch-Star fellowship in synagogue leadership, a prestigious honor and cohort led by scholar Rabbi Larry Hoffman, Ph.D. She was also a member of the Worship Working Group, a group dedicated to making prayer services spiritual and meaningful through music and innovation. Cantor Green wrote her thesis on the significance of the body and movement in Jewish prayer.
Before attending cantorial school, Cantor Green served at Congregation Beth Israel in Portland, Oregon, as a preschool teacher, youth group advisor, song leader, co-founder of Jews Next Dor, and a member of Beth Israel's former house band, Def Schlepper.
A native of Anchorage, Alaska, Cantor Green spent winters serving on her synagogue youth group board and spent her summers in California at URJ Camp Swig. She received a Bachelor of Arts in Family and Human Services from the University of Oregon in 2003. While in college, she led worship at the University of Oregon Hillel. After college, she was a song leader at URJ Camp Newman in California and had the honor of being the inaugural head song leader at URJ Camp Kalsman in Washington.
Cantor Green is an active member of the American Conference of Cantors.
Cantor Green lives in Portland with her husband, Eli, her two sons, Emmet and Aviv, and her dog, Tsuki.
Cantor Green can be reached via e-mail
Rabbi Emeritus, Emanuel Rose (z"l), D.H.L., D.D.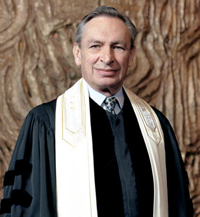 Rabbi Emanuel Rose (z"l) served as Congregation Beth Israel's Senior Rabbi from 1960, until his retirement in 2006.  Rabbi Rose (z"l) was born in Jamaica, New York and hails from a family of fifteen generations of Rabbis.  He had served as Assistant Rabbi at New York City's Temple Emanu-El before coming to Portland.  His son Rabbi Joshua Rose continues the family tradition and is currently serving as the Senior Rabbi at Congregation Shaarie Torah in Portland, Oregon.
With the early support, encouragement and participation of Congregation Beth Israel's Board of Trustees, Rabbi Rose (z"l) continued the tradition of being a champion for Social Justice as well as the gradual expansion and change mirroring the evolution of American Reform Judaism in the fields of early childhood education, adult education, Synagogue ritual and prayer.  Because of his love for cantorial music, he brought Cantor Judith B. Schiff to CBI in 1980 and began the tradition of a clergy partnership and incorporating the finest cantorial music into our worship and educational programs.
During Rabbi Rose (z"l)'s forty-six year tenure, he created many endowment funds to broaden the staff expertise in education and professionalizing our administrative departments, immeasurably deepening the experiences of our members.  He is particularly proud of the annual 10th grade Confirmation Class trip to the Religious Action Center to deepen their love and understanding for the importance of Social Justice as well as giving our 11th graders an appreciation for Israel by experiencing the NFTY summer of study and travel in Israel.
In addition to establishing the many endowment funds strengthening our congregation,  Rabbi Rose (z"l) spear-headed the building of the Schnitzer Family Center in 1993, housing the flexible and intimate Pollin Chapel, Lipman Foyer, Goodman Social Hall, Herbert and Shirley Semler Board Room and  the Robert Weil Administrative offices.
For over four decades as the leading voice of Reform Judaism in Oregon, Rabbi Rose (z"l) has addressed the major ethical, cultural, social and political issues, such as civil rights, church-state relations, nuclear war, capital punishment, anti-gay legislation, poverty, the environment censorship,  and reproductive rights.  Rabbi Rose (z"l) has been called the most influential religious leader in the State of Oregon.
Rabbi Rose (z"l) earned his doctoral degree from Hebrew Union College – Jewish Institute of Religion, focusing his dissertation entitled "Jews and Judaism in Vatican II, with minors in Talmud and Christian-Jewish Polemical Literature.  He was the first Rabbi in the United States to be a resident lecturer on Judaism at a Catholic University (University of Portland.)  He also served as Chairman of the Board of Trustees at Lewis and Clark College and Law School.
Nationally Rabbi Rose (z"l) has served as President of the Pacific Association of Reform Rabbis, as a Board Member of the Central Conference of Reform Rabbis and as a member of the Commission on Social Action of Reform Judaism.
Rabbi Rose (z"l) and his wife Lorraine Wilson Rose were married in 1960.  They have three daughters, Melanie, Tania and Laura, who is married to Scott Lewis and one son, Rabbi Joshua Rose, married to Channah King Rose.  Rabbi and Lorraine are the proud grandparents of six grandchildren, Zachary, Elliot, and Chloe, Lewis and Eliav, Akiva and R'fael Rose.
CBI's  members and our community continue to be the beneficiaries of Rabbi Rose (z"l)'s legacy.
Cantor Emerita, Judith Blanc Schiff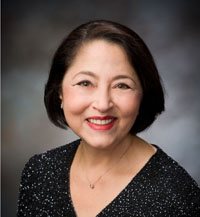 Cantor Judith Blanc Schiff served as Senior Cantor of Congregation Beth Israel since her investiture from Hebrew Union College-Jewish Institute of Religion in 1980 until June 30, 2012. She received her BA in English from the University of California at Los Angeles and a Master of Music in Voice from Manhattan School of Music. As a member of the American Opera Center at the Juilliard School, Cantor Schiff created the character of the Old Lady in the premier of Alan Leichtling's opera A White Butterfly.
Cantor Schiff created the role of the Evil One in David Schiff's opera, Gimpel the Fool, which was performed at the 92nd Street Y in New York City for two seasons and in Portland in 2003. Her performance as Sura can be heard on the Naxos recording of the opera. She has performed with the Oregon Symphony, the Seattle Symphony, Chamber Music Northwest, the Aspen Music Festival and the Kansas City Lyric Opera. Cantor Schiff can also be heard on the CD "The Music of David Schiff" (Delos Records) performing the Suite from the Sacred Service. The Sacred Service was commissioned by Arlene Schnitzer, June Nagel and Ruth Helfond in memory of Simon and Helen Director, in honor of Congregation Beth Israel's 125th Anniversary.
She has sung the premiers of many works composed by her husband David for events at Congregation Beth Israel: the mini-opera Vashti, or the Whole Megillah; Psalm 150, commissioned by Michael and Alice Powell for CBI's 150th anniversary; and Havdalah service composed in honor of her 25th anniversary as Congregation Beth Israel's Senior Cantor.
Cantor Schiff and her husband David are the parents of Daniel Schiff and Jamie Schiff Sperling.
Cantor Schiff can be reached via e-mail.