Brotherhood
Dear CBI Members,
Jeff Capen here, new President of the CBI Brotherhood. I'm excited to start my two year term leading this awesome group, taking over for Past President Andy Olshin.
Our main goal this year is simple: FUN and growth in participation. We want to engage all members in fun and casual events so we can build community within our synagogue and beyond. We invite not only Brotherhood members, but any congregants that may be considering joining the Brotherhood or who have been active in the past, but less so recently, to come eat, drink and fellowship with the men in our community.
I hope that you consider joining this dynamic and fun group to help make our organization and synagogue stronger. Please consider the small role you and potentially a small group of your close friends at CBI can play in helping us to achieve our goals.
Questions about Brotherhood, what we do, and how to get involved? Please reach out to me at 503.888.5191 or email Tracy in the CBI office and she'll put us in touch.
Best wishes,
Jeff
Brotherhood Mission
Our Brotherhood has entertaining events and provides crucial support to our Temple and to our Programs throughout the year. Congregation Beth Israel's Brotherhood focuses on strengthening the ties of our members and their families to our Jewish heritage and traditions.
Interested in Joining the Brotherhood?
Events
For information about upcoming Brotherhood events as well as all other CBI events, including religious services, please visit our calendar or visit our virtual events page.
Past Events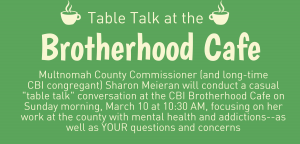 Table Talk at the Brotherhood Cafe
Sunday, March 10, 10:30 AM
Brotherhood Cafe 
Join Multnomah County Commissioner (and CBI congregant!) Sharon Meiran for a conversation about her work at the county–and whatever may be on your mind!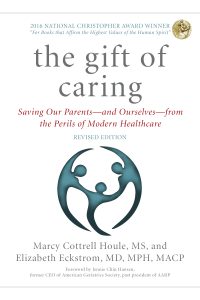 "The Gift of Caring"
Sunday, March 3, 10:00 AM
Pollin Chapel
Author Marcy Cottrell Houle will speak on her Christopher Award winning book, The Gift of Caring.
One of the most difficult struggles in life is caring for an aging loved one, be it parent, spouse, or another. That struggle becomes almost impossible when the more common trials of aging are complicated by dementia or Alzheimer's. The Gift of Caring combines the poignant narrative of author Marcy Cottrell Houle trying to handle first her father's eventually debilitating Alzheimer's, then her mother's deteriorating physical health. Interspersed into this heartfelt story is real, actionable advice from co-author Elizabeth Eckstrom MD, MPH, MACP. Specializing in geriatrics and a strong advocate for better healthcare for the elderly, Eckstrom provides clear, compassionate advice and empowering strategies at every step of Houle's journey.