Chanukah at CBI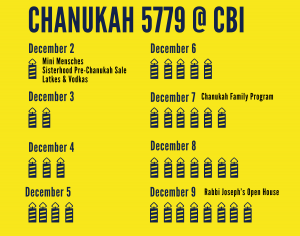 Chanukah began Sunday night, December 2, and CBI has plenty of programming to make your celebration full of light, laughter … and latkes!
Chanukah Happenings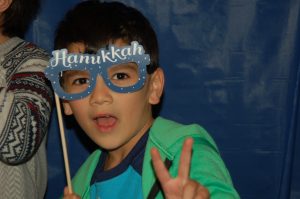 Mini Mensches Celebrate Chanukah! | Sunday, December 2
Join Mini Mensches for a morning of learning all about Chanukah! We'll sing, dance and do crafts to get in the spirit of the holiday.
Latkes and Vodkas | Sunday, December 2
Start heating the oil, grating those onions, and prepping whatever your top secret ingredient is for truly epic latkes, because Latkes and Vodkas is back!  All are welcome to gather in Blumauer kitchen, where your CBI brotherhood will provide the basics (potatoes, onions, oil). A taste test—accompanied by vodka—will determine this year's reigning latke champion!
Sisterhood Pre-Chanukah Sale and Bake Sale  | Sunday, December 2
Your WRJ/Beth Israel Sisterhood is your go-to source for all your Chanukah needs, and will hold a special 10% off sale on and bake sale Sunday, December 2. All proceeds support the CBI Religious School.
Chanukah Family Celebration | Friday, December 7
Bring the whole family—and your chanukiah!—for a lively Shabbat Evening Service, music, crafts, and games. Enjoy latkes, salad, and donuts. Feel the warmth of community as we light the candles together.
In keeping with the Chanukah theme, we are collecting donations for our partner, Portland Homeless Family Solutions. A full list of their most in-demand items is available here.
Rabbi Joseph's Chanukah Open House | Sunday, December 9
You're Invited to Rabbi Joseph's Annual Chanukah Open House! Join your fellow CBI members and celebrate Chanukah with Rabbi Joseph on Sunday, December 9 from 4:00–6:00 PM.
RSVP to the CBI Main Office at for the address.
Chanukah Resources
Learn about the Chanukah blessings here
What is the story of Chanukah?
How do you light the Chanukah Menorah?
Listen to some Chanukah Music!
Chanukah Activities, Recipes and Crafts
Thank You, Sisterhood!
Every year, your WRJ/Beth Israel Sisterhood sends Chanukah (and Purim!) care packages to congregants' children enrolled in college, graduate school, professional educational programs, and military service. Our students love getting our packages filled with seasonal treats, dreidels and gelt, a student directory, a note from Rabbi Cahana, and more.
Want to make sure your child is included in the upcoming Purim mailing? Please contact Kathleen Doctor  with your student's name, email address, college or branch of service, mailing address, year in school, permission for inclusion in student email directory, and dietary restrictions. We want to make sure everyone is included!
This is a free service made possible by the Urman Family College Communication Fund. Donations are always welcome.