Update from Krakow
Rabbi Cahana on the history of the Jewish community of Krakow and his meeting with with refugees.
---
"It's important for us to be the ones to stand up now."
---
Rabbi Cahana Arrives in Krakow
Rabbi Michael Cahana has arrived in Krakow (his bags of essential supplies came through as well), connected with the other clergy on this aid trip, and now shares his first glimpses of the city.
---
Rabbi En Route (with 5 heavy duffle bags and a $60,000 check)!
Rabbi Cahana departed Saturday, April 9 for Krakow for his aid mission in support of Ukrainian refugees. He brings with him a check for over $60,000 for direct aid, and five duffle bags of essential supplies.
Here is a deeper look at his preparations.
Our deep appreciation to everyone in our community who donated money and goods to these ongoing efforts, to Lufthansa and Alaska Aireliness for waiving the excess baggage fees for his five very heavy duffle bags, and to PositiveChargePDX for ensuring that the (abundant) contributions Rabbi Cahana couldn't carry will be shipped to Poland to aid Ukrainian refugees.
---
Over $48,000 raised, five duffle bags overflowing, and generous community partners!
Support for Rabbi's Ukraine aid mission continues to inspire; monetary donations now exceed $48,000, five duffle bags have been filled with baby formula, antiseptics, and disinfectants, and Lufthansa and Alaska Airlines have committed to waiving excess bag fees to help get this much-needed support to JCC Krakow as soon as possible. We are so inspired by the difference this community is making together. 
---
An Update from Rabbi Cahana on Supporting Ukraine
And they said the following to Moshe: the people are bringing too much—more than is needed for the tasks which Adonai has commanded to execute. (Ex. 36:5)
There is a remarkable moment recorded in the Torah where the Israelites' generosity towards building the desert temple is so great that Moses has to give the command to have them stop. No fund-raiser or non-profit in history has done the same since!
So it is with some trepidation, but also with a full heart, that we have to make the following announcement:
The generosity of our community in helping the refugees of Ukraine is overwhelming. You have brought in an immense supply of baby formula, antiseptics and disinfectants. And, at this point, the generosity of goods is more than Rabbi Cahana can actually carry on his mission to Krakow next week.
Thank you!
Please continue to give monetary donations . He will travel with a check from the funds received up until that point. All money received after that date we will send separately through the Friends of the JCC Krakow. All these funds will go directly to help the incredible number of Ukrainian refugees moving into and through Poland.
And please watch for Rabbi Cahana's reports directly from Krakow.
---
Donations for Ukrainian Refugees Exceed $45,000!
We announced Rabbi Cahana's aid trip to support JCC Krakow in assisting Ukrainian refugees just last week. In seven short days, the CBI community has raised over $45,000. We will continue to accept monetary donations until Monday, April 4 (anything received after that date will be sent separately to direct support for Ukrainian refugees).
Click to donate to CBI's Aid for Ukraine Fund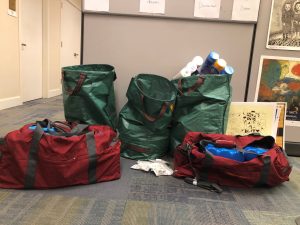 Rabbi Cahana's five duffle bags of baby formula, disinfectants and antiseptics are filling rapidly as well. We will let you know if (realistically, when) we reach capacity on these essential supplies.  If you are planning to make a significant donation of these items, please give our Main Office a heads-up at (503) 222-1069. Any items we can't fit in to travel with Rabbi will be donated to nonprofits providing direct services and aid to houseless people here in Portland.
---
We've Raised $22,000–and Counting!–in Conjunction with Rabbi Cahana's Ukraine Aid Trip
In the five days since announcing Rabbi Cahana's aid mission to Krakow, the CBI community has raised over $22,000! Thank you all so much for your inspiring generosity.
In order for your monetary donations to be processed in time for Rabbi Cahana to bring them directly to JCC Krakow, we will need to receive them by Monday, April 4. You can contribute here, or by clicking the button below. Funds received after April 4 will be sent separately to direct support for Ukrainian refugees.
We are wildly impressed with the volume of baby formula, disinfectants and antiseptics the CBI community has dropped by the office. Lufthansa has agreed to waive the excess baggage fees so that Rabbi Cahana can bring five duffle bags of these essential supplies with him. Please bring all donations to the CBI Main Office by Friday, April 8—and if you plan on bringing a significant volume of these items, please call (503) 222-1069 and give us a heads-up so that we can best plan ahead.
---
Rabbi Michael Z. Cahana to Participate in Mission to Help Ukrainian  Refugees 
---
In-Kind Donations: Frequently Asked Questions
The general response from JCC Krakow to the questions we've received about specific items and needs is that Ukrainian refugees need everything, and it is far better to give what we can than it is to get overly bogged down in details. That said:
we have a nominal preference for powdered, rather than liquid formula for ease of transport
all types of disinfectants and antiseptics are welcome
if you have an interest in donating related items, or items outside this list, please let us know, and we will see if and how those items can best be used
your donation to CBI's Aid for Ukraine fund is tax-deductible; we can also provide receipts for donations of items as needed 
---
Please Help Me as I Join a Mission to Poland to Help Ukrainian Refugees
Rabbi Michael Z. Cahana
Like you, my heart has been breaking as we watch videos and news reports from Ukraine. As their country is under attack from the military of Putin's Russia, the Ukrainian people have shown remarkable courage, conviction and commitment. Although greatly outmatched in the machines of war, they continue to bravely fight the invading army to a standstill. But the oppressors have created a horrific humanitarian crisis by bombing civilian residences, shelters and escape corridors. Families are torn asunder as Ukrainian women, children and the elderly flee within their country and over their borders.
Like you, I want to help.
Among the institutions providing care and relief for these war refugees has been the Jewish Community Centre of Krakow, Poland. Under the direction of Executive Director Jonathan Ornstein, the JCC Krakow has pivoted to be a collection and distribution point for food, medicine, hygienic supplies, toys and clothing. An average of 300 Ukrainians a day are coming to take whatever supplies they need and are met by Ukrainian speakers who welcome them and offer assistance. They are also sending pallets of supplies to other locations in Krakow, to the border and inside Ukraine. They are providing direct housing and food for over 200 Ukrainians a day and transportation for those who are traveling onward to Europe and Israel. The JCC Krakow is currently spending $10,000 a day on these efforts.
On April 10-14, I will be joining a mission of over 25 Reform Rabbis to assist those relief efforts at the JCC Krakow. My son, David Cahana, will be part of the delegation as well – as he has extensive experience in providing direct care to the houseless here in Portland and in Ann Arbor, MI where he now lives. Our mission is to help relieve the volunteers who are providing life-saving services to refugees and to be witness to the human tragedy unfolding in Europe at this moment. I plan to provide updates from the field on what I see.
And, I plan to bring items and funds donated from our community.
An extensive list of needed supplies has been sent to the rabbis of the delegation. I have been assigned to bring baby formula, disinfectants and antiseptics. Congregation Beth Israel will be collecting donations of these items for me to carry. We are working with the airlines to waive excess baggage fees so these items can be delivered by hand. Please bring all donations to the Temple office by Friday, April 8. We hope to fill 5 duffle bags with supplies.
In addition, donations can be made to the Temple's Aid for Ukraine Fund by clicking the button below.
Click to donate to CBI's Aid for Ukraine Fund
Donations can be made online to the Friends of JCC Krakow as well.
Click to donate to Friends of JCC Krakow
The Portland Jewish Community has responded strongly to the refugee crisis stemming from the war on Ukraine. We are grateful to the Jewish Federation of Greater Portland which has raised over $330,000 of relief aid, already sent to aid organizations. On Purim, our congregants contributed about $3,000 towards this effort. Thank you to all who participated and who continue to support this community response.
Click to donate to the Jewish Federation of Greater Portland's Ukraine Response
This is a time in which we are commanded not to stand "idly by." I am honored to be your shaliach, your representative, in this Sacred work.
The "Hineini" mission is organized through the CCAR (Central Conference of American Rabbis), IMPJ (Israel Movement for Progressive Judaism), WUPJ (World Union for Progressive Judaism), and J2 Adventures (our Reform movement's travel partner). Q