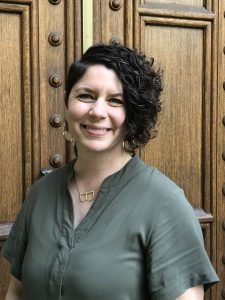 Bailey Brandt joins us from Chicago, where she worked as a Developmental Therapist, providing play-based interventions for children aged zero to three, tackling developmental delays. Prior to that, she worked as the Director of Early Childhood Education at a Montessori-based infant and toddler school. 
She has a Masters of Science in Child Development with a concentration in Infancy and Administration from Erikson Institute, and has been working with children and families for sixteen years, both as a direct caregiver and as parent support. Bailey is beyond excited to join The Jennie and CBI, and to join CBI staff in building an incredible school for our community.
Born in the Bay Area, Bailey moved to Portland as an adolescent, where she graduated from Metropolitan Learning Center (a few blocks away from CBI!) and obtained her undergraduate degree from Portland State University. After nine years exploring Chicago (and picking up her Master's degree!) she decided it was time to come home and be near family again.
Bailey has spent her career practicing and building on the skill set of inclusive and anti-oppression early childhood care, and feels deeply that raising children with responsive and quality caregiving is the best way to create a peaceful and joyful future for all.  She uses a relationship and community building approach, believing that our communities and interpersonal connections as adults, fuels and supports positive childcare experiences for children.