Adult Education
Upcoming Events
An Overview of Great Jewish Texts
Wednesday, October 3, 10, and 17 and November 14 and 28, 7:00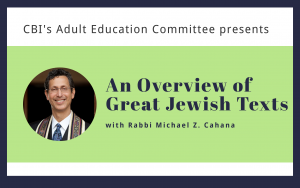 Shirley and Herbert Semler Board Room
Congregation Beth Israel's Rabbi Cahana will present a series of five classes focusing on the Great Jewish Texts: Talmud, Mishnah Midrash, Zohar (Kabbalah), and Reform Responsa. We will ask: what are these different texts and what functions do they serve? In addition to providing the overview, Rabbi Cahana will help participants understand what is involved with in-depth study of each of these texts.
This five-session, seminar-style course is presented by CBI's Adult Education Committee and will meet throughout the fall in the Shirley and Herbert Board Room on the CBI campus. Your RSVP is appreciated; please call the CBI Main Office at (503) 222-1069 or email Program Coordinator Tracy Manaster Alifanz.
Past Events
Three Clergy Present 2016: "The Illusion of Inclusion: Welcomed, Welcoming and Sometimes, Not."
Panel: Rev. Msgr. Patrick S. Brennan, St. Mary's Cathedral of the Immaculate Conception; Rabbi Michael Z. Cahana, Senior Rabbi, Congregation Beth Israel; The Very Rev. Nathan LeRud, Dean, Trinity Episcopal Cathedral
On February 9, 2016, three clergy from three of the major NW Portland religious institutions gathered to discuss and teach about issues from their unique religious perspectives. Inclusion and Welcoming are important words in our religious practice these days. But how do we define ourselves if there is no distinction? America is a land of religious inclusion – but it hasn't always been. Exclusion is also a part of our history. Read more about the event in this Catholic Sentinel article.
Watch video of some of the event:
Three Clergy Present 2015 – Three Clergy and a Wedding: Marriage, Divorce, and Remarriage in our Religious Tradition
Speakers: Msgr. Patrick Brennan of St. Mary's Cathedral, The Rev. Canon Nathan LeRud, Acting Dean, Trinity Episcopal Cathedral, and Rabbi Michael Z. Cahana of CBI
Continuing their popular series of discussions, the leaders of three major congregations in our corner of NW Portland joined in a lively dialogue.
Read more and watch snippets from the event.
Jews and the Civil Rights Movement: The Mississippi Journey of Mickey and Rita Schwerner
Speakers: Former Oregon Supreme Court Justice Jacob Tanzer and Ron Silver
Former Oregon Supreme Court Justice Jacob Tanzer, Ron Silver, and the Northwest Freedom Singers told the story of Mickey and Rita Schwerner and Jewish participation in the Civil Rights Movement in Mississippi in the 1960s. After the FBI found the bodies of Mickey Schwerner, James Chaney, and Andrew Goodman in August 1964, Jake Tanzer was part of the Justice Department team that went to Mississippi to root out and indict the killers. Ron and Jake shared how Jews came to play such a large role in the Movement and how most of the killers were finally brought to justice. The Northwest Freedom Singers made the room come alive with the music of the Movement.
The Struggle with G-d: From Antiquity to Modernity
This was a series of three lectures by Rabbi Michael Cahana about our struggle with G-d. Previous attendance is not a prerequisite to latter sessions.
Judaism's radical insight to religion is the concept of a single G-d, unseeable and to a certain extent unknowable. And yet, that uniqueness creates a problem known to Moses and all the prophets: How can I know an unknowable G-d? In this series of classes, we will discuss the struggle we Jews have with divinity. Having trouble with G-d? Join the club!
Session 3: "Where is G-d? The Holocaust Defiance" 
Sunday, December 7, 10:00 AM 
Pollin Chapel
In this final session we discussed one of the most theological difficult subjects: The question of where is G-d in our most difficult times. We looked at historic challenges from the Expulsions (Israel, Spain), the challenges brought by the Enlightenment, the Shoah and the 20th Century "Death of God" movement.