Social Action
Congregation Beth Israel's Social Action Committee works with Rabbi Joseph to promote social justice and set priorities for CBI's call to action through programming and volunteer opportunities. This group provides a myriad of programs that support causes through education, advocacy, direct service, and interfaith coalition building. This committee is only open to members of CBI.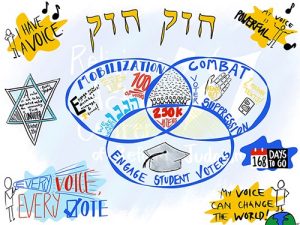 Every Voice, Every Vote is the Reform Jewish Movement's 2020 Civic Engagement Campaign. This is a nonpartisan effort to strengthen our democracy by encouraging all eligible voters to participate in the U.S. election.
Click for more information or email us to get involved.
Follow Rosie (7) and Fiona's (5) lead! Get the whole family involved with Every Voice, Every Vote!



Voting in Troubled Times – Series Schedule
As part of our Every Voice, Every Vote Civic Action campaign, please plan to join the Center for Common Ground's ongoing webinar series.
The Shifting Voter Landscape
Thursday, September 24, 5:00 PM
Click to join!
The Final Dash
Thursday, October 22, 5:00 PM
Description and link to follow.
Steps to Access the Reclaim Our Vote Phone Banks
Click to access
---
Sacred Circles
CBI Congregants are invited to form a "Sacred Circle" with the purpose of providing support and accountability as we collectively determine our group's way into more courageous and concrete actions for racial and immigrant justice and beyond. The first of what is anticipated to be monthly meetings will take place the week of July 20; please email antiracist@bethisrael-pdx.org to let us know you wish to be involved. Click for more details about the vision for Sacred Circles.
---
Social Action Tribute Fund Allocations – July/August. September 2020
The Social Action Committee is responsible for recommending allocations from the Social Action Tribute Funds to the CBI Board. Most recent recommendations have directed to organizations that have pivoted their activities to meet immediate needs related to the COVID 19 Pandemic. The CBI Executive Board has approved the following allocations.
From Food Fund:
Lift Urban Portland – $2500
Sunshine Pantry – $2500
Urban Gleaners – $2500
Northeast Emergency Food Pantry – $2500

From General Social Action Tribute Fund:
Religious Action Center (for Every Voice, Every Vote) – $700
Social Action Tribute Fund Allocations – May/June 2020
From Food Fund:
Portland Backpack Project – $ 1,000
Urban Gleaners – $ 3,000
Oregon Food Bank – $ 8,000
Stone Soup PDX – $ 2,000
Lift Urban Portland – $ 2,500
From General Social Action Tribute Fund:
Partners for Hunger Free Oregon – $ 5,000
HIAS (Humanitarian Aid and Advocacy for Refugees) –$ 7,500
CODA (Treatment for Substance Abuse Disorders) – $ 1,000
Rose Haven (Day Shelter for Women and Children) $ 2,000
More information about these organizations and the work they are currently doing is available in the Social Action content on the CBI website.
---
Brit Olam
CBI is a Brit Olam (Covenant with our World) committed congregation, joining over 200 other Reform Congregations in linked social justice work.
CBI works to give back to our community through frequent social action projects. Volunteers come together throughout the year to help provide and deliver meals during Thanksgiving and Christmas, support refugees in our community, lobby in Salem, participate in our annual Mitzvah Day, and so much more!
Even in this time of physical distancing, we have ongoing projects to support our community. We continue our neighbors at NW Towers, including assisting with the resident-run food pantry.
With a long list of activities, there are always opportunities to help our community. These projects are open to the larger Portland- area Jewish community.
Click here for opportunities to volunteer.
---
Connect with Social Action at CBI
Our Beth Israel Community has a full slate of social action activities, from direct service to advocacy, that reflects our social justice teachings.
Your help is needed. Volunteer for an event or ongoing activity, or to help with the development and implementation of new programs. Participation in the Social Action Committee is open to all congregants. The following is a description of some of our programs.
The Social Action Committee welcomes requests for allocations from the Social Action Food Fund, Robert Peltz (z"l) High Holidays Funds for Food, and the Social Action General Tribute Fund. Please click to learn more and to submit a request.
Questions about how you can get involved with the Social Action Committee? Email SAC@bethisrael-pdx.org or call Program and Communications Coordinator Tracy Manaster Alifanz at (503) 222-1069 to learn how you can make a difference!