Social Action
Congregation Beth Israel's Social Action Committee works with Rabbi Joseph to promote social justice and set priorities for CBI's call to action through programming and volunteer opportunities. This group provides a myriad of programs that support causes through education, advocacy, direct service, and interfaith coalition building. This committee is only open to members of CBI.
Holiday Giving and Tikkun Olam
Southern Oregon fire victims need our support.  
 
CBI has a tradition of providing for others at Thanksgiving and during the winter holidays.  This year we are unable to host our two usual events, the Thanksgiving Dinner for our neighbors at NW Towers and the Lift Urban Portland Community Christmas Dinner. Many of us will miss being a part of these celebrations; all of us can still make a difference.
Our Social Action Committe reports that, thanks to the generosity of our community, we have been able to support several organizations that are providing food and vital services to those affected by the Covid-19 pandemic.
Now we are asking for CBI to join with Temple Emek Shalom of Ashland to help the many Southern Oregon residents who have suffered devastating losses due to Almeda fire in September. The towns of Talent, Phoenix and Medford were especially hard hit by this catastrophe.
Please consider giving generously to an organization assisting fire victims, such as Rogue Food Unites (via United Way of Jackson County), Ashland Emergency Food Bank, or by sending a check payable to Jackson County School District #4 to
Phoenix-Talent School District Fire Relief Fund*
PO Box 937
Medford, OR  97501
And please help CBI to track our efforts.
If you donate please send an email with "Fire Relief" in the subject line and your name in message to:
SAC@BethIsrael-PDX.org
(No need to include amount of donation).
*The Phoenix Talent Fire Relief Fund is organized by the Talent Phoenix School District where an estimated 50% of the student population has lost their homes.  All contributions go directly to families.
Robert Peltz (z"l) High Holidays Funds for Food
Robert Peltz was the energy, passion and conscience of our High Holidays Funds for Food from the time of it's inception until his unexpected death earlier this year. The fund has been renamed as a tribute to his efforts.
Robert's widow Leslie Peltz, and his good friend Jim Richman, carried Robert's legacy forward this year. Under their thoughtful and dedicated leadership the fund had a huge increase in both the number of donors and the amount of money raised.
Number of donors – 191
Total Donations – $35,304
Allocations:
Lift Urban Portland -$5,000
Sunshine Pantry – $3,000
Oregon Food Bank – $6,804
Urban Gleaners – $1,500
Stone Soup – $1,500
Northeast Emergency Food Programs – $1,500
Immigrant and Refugee Community Organization (IRCO) – $4,000
Native American Rehabilitation Association (NARA) – $4,000
Sunshine Division – $4,000
Virginia Garcia Memorial Health Center – $4,000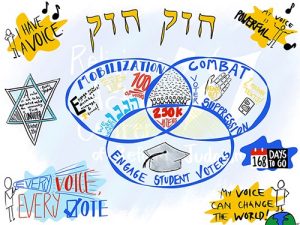 Every Voice, Every Vote is the Reform Jewish Movement's 2020 Civic Engagement Campaign.  This is a nonpartisan effort to strengthen our democracy by encouraging all eligible voters to participate in the U.S. election.
Join the efforts to get out the vote for the Georgia U.S.  Senate runoff election on January 5, 2021.
Click for more information or email us to get involved.
Follow Rosie (7) and Fiona's (5) lead! Get the whole family involved with Every Voice, Every Vote!
---
Social Action Tribute Funds 
The Social Action Committee is responsible for recommending allocations from the Social Action Tribute Funds to the CBI Board. Most recent recommendations have directed to organizations that have pivoted their activities to meet immediate needs related to the COVID 19 Pandemic. The CBI Executive Board has approved the following allocations.
Social Action Tribute Fund Allocations
July/August/September 2020
From Food Fund:
Lift Urban Portland – $2500
Sunshine Pantry – $2500
Urban Gleaners – $2500
Northeast Emergency Food Pantry – $2500

From General Social Action Tribute Fund:
Religious Action Center of Reform Judaism (for Every Voice, Every Vote) – $700
May/June 2020
From Food Fund:
Portland Backpack Project –  $ 1,000
Urban Gleaners – $ 3,000
Oregon Food Bank – $ 8,000
Stone Soup  PDX – $ 2,000
Lift Urban Portland – $ 2,500
From General Social Action Tribute Fund:
Partners for Hunger Free Oregon – $ 5,000
HIAS (Humanitarian Aid and Advocacy for Refugees) –$ 7,500
CODA (Treatment for Substance Abuse Disorders) – $ 1,000
Rose Haven  (Day Shelter for Women and Children)   $ 2,000
More information about these organizations and the work they are currently doing is available in the Social Action content on the CBI website.
---
Brit Olam
CBI is a Brit Olam (Covenant with our World) committed congregation, joining over 200 other Reform Congregations in linked social justice work.
CBI works to give back to our community through frequent social action projects. Volunteers come together throughout the year to help provide and deliver meals during Thanksgiving and Christmas, support refugees in our community, lobby in Salem, participate in our annual Mitzvah Day, and so much more!
Even in this time of physical distancing, we have ongoing projects to support our community. We continue our neighbors at NW Towers, including assisting with the resident-run food pantry.
With a long list of activities, there are always opportunities to help our community. These projects are open to the larger Portland- area Jewish community.
Click here for opportunities to volunteer.
---
Connect with Social Action at CBI
Our Beth Israel Community has a full slate of social action activities, from direct service to advocacy, that reflects our social justice teachings.
Your help is needed. Volunteer for an event or ongoing activity, or to help with the development and implementation of new programs. Participation in the Social Action Committee is open to all congregants. The following is a description of some of our programs.
The Social Action Committee welcomes requests for allocations from the Social Action Food Fund, Robert Peltz (z"l) High Holidays Funds for Food, and the Social Action General Tribute Fund. Please click to learn more and to submit a request. 
Questions about how you can get involved with the Social Action Committee? Email SAC@bethisrael-pdx.org or call Program and Communications Coordinator Tracy Manaster Alifanz at (503) 222-1069 to learn how you can make a difference!