Every Voice, Every Vote
Every Voice, Every Vote
As we reckon with our country's long history of systemic racism, many of us are seeking concrete actions to address these challenges in ways that are safe during this time of physical distancing.
One of the most effective ways to begin dismantling racial oppression is to combat voter suppression across the country to ensure that all who are eligible to vote can do so. This is an effort where Congregation Beth Israel's commitment to social action can make a huge difference.
The Reform movement, through the Religious Action Center of Reform Judaism, has launched the "Every Voice, Every Vote" non partisan campaign to mobilize voters for the 2020 election.
The program has three pillars:
combating voter suppression
mobilizing our community of voters and
engaging student voters
Combating Voter Suppression
Combating Voter Suppression: At the center of this nonpartisan initiative is a partnership with the Center for Common Ground's Reclaim Our Vote (ROV) campaign to reverse the voter suppression that has disproportionately affected people of color.
ROV is working to re-register voters of color in six states who have been purged from voter rolls. (Each of these states has a history of voter suppression, a significant number of people of color, and an upcoming Senate race.) The campaign will also encourage people to vote and educate them on applying for absentee or vote-by-mail ballots.
Every Voice, Every Vote CBI Postcards: Watch Our Progress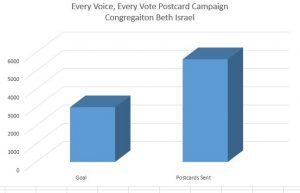 We hope to send 3000 postcards as part of this campaign; check in on our progress each week!
Please also be sure to let us know how your efforts for Every Voice, Every Vote are coming along!
Mobilizing Our Voters
Mobilizing Our Voters: We have set a goal of having 100% voter participation of each congregant who is eligible to vote. This will become a focus of the campaign as we draw closer to the November election.
Register to vote in Oregon; the deadline is October 13, 2020.
Register to vote in Washington; the deadline is October 26, 2020.
Engaging Student Voters
Engaging Student Voters: RAC is working with high school and college students to increase the number of young voters and will be holding training sessions on July 28 and August 23.
Join Us!
We encourage you to join the growing number of CBI members who have already started writing postcards, making calls and sending texts in support of increasing voter participation this fall.
Getting involved is easy, and you can do as much or as little as your time allows.
Email vote@bethisrael-pdx.org to get started now!
Jewish tradition is clear that voting is not simply a privilege; it is a mitzvah that we must honor and ensure that others can as well. Fighting voter suppression is not the only answer to "What can we do," but it is a simple and powerful action that all of us can take.
We look forward to working with you.
In the spirit of Tikkun Olam,
Rabbi Michael Z. Cahana
Cantor Ida Rae Cahana
Rabbi Rachel L. Joseph
CBI Social Action Committee
WRJ/Beth Israel Sisterhood
Jews Next Dor
Portland Area Reform Temple Youth (PARTY)
Upcoming Meetings
Voting in Troubled Times – Series Schedule
As part of our Every Voice, Every Vote Civic Action campaign, please plan to join the Center for Common Ground's ongoing webinar series.
The Final Dash
Wednesday, October 21, 5:00 PM
Description to follow.
Join via Zoom